Netflix's The Witcher is truly starting to take shape.
The streaming giant has dropped the first look at its star, Henry Cavill, in action as Geralt of Rivia, the lead protagonist of the upcoming fantasy series. The eight-episode drama, based on Andrzej Sapkowski's book series of the same name, is set to begin production in Hungary, so this is a great way to kick the whole thing off.
Here's the first photo of the Man of Steel and Justice League actor in the role:

In addition, Netflix has revealed that the following actors have been cast in the series: Eamon Farren (The ABC Murders, Twin Peaks) as Cahir, Joey Batey (Knightfall, Strike) as Jaskier, Lars Mikkelsen (House of Cards, Sherlock) as Stregobor, Royce Pierreson (Wanderlust, Judy) as Istredd, Maciej Musiał (1983) as Sir Lazlo, Wilson Radjou-Pujalte (Jamillah & Aladdin, Dickensian) as Dara, and Anna Shaffer (Harry Potter) as Triss.
They will join previously announced female leads Freya Allan and Anya Chalotra, who will play Ciri and Yennefer, respectively.
What do you think of this first look at Henry Cavill as Geralt? Will he be able too pull it off? Let us know in the comments below!
Get your first look at Henry Cavill in The Witcher! pic.twitter.com/1O2eWS1MkP

— Netflix US (@netflix) October 31, 2018
Source: The Hollywood Reporter
Want Goliath news delivered straight to your inbox every day? Join our mailing list now.
Follow me on Twitter at Nick_Steinberg.
---
The Most Anticipated Netflix Originals Of 2019
As television networks and other entertainment media companies continue to set up their own walled gardens — or to be more accurate, their own streaming services — Netflix has increasingly relied on its own original programming to help fill the void left by expired streaming contracts. Whether or not you're a fan of the Netflix model or the Netflix Original brand, it's hard to deny that the company has managed to build an impressive content library in just a few short years.
As of 2018, Netflix now boasts approximately 1,000 different original movies and TV shows, and that number is only going to continue to climb as we head into 2019 and beyond. Of course, with the sheer scale of Netflix's release strategy these days, it's becoming increasingly difficult to figure out which movies and TV shows are worth your time and which ones are disposable. While we won't know for sure which camp the following movies and TV shows fall into until their release, these are the Netflix Originals you should keep an eye on in 2019.

12. The Last Dance
A much-anticipated collaboration between Netflix and ESPN, The Last Dance is a multi-part documentary focusing on NBA legend Michael Jordan and his unstoppable Chicago Bulls teams from the early 1990s. The Last Dance is comprised of interviews with Jordan and other players, as well as excerpts from more than 500 hours of never-before-seen archival footage from Jordan and the Bulls' final championship run during the 1997-98 season. Considering the pedigree of ESPN's 30 for 30 films, The Last Dance has the makings of a must-watch sports documentary.
11. Our Planet
Who doesn't love a good nature documentary? From the makers of Planet Earth, Our Planet is an eight-part series exploring more remote wilderness areas all over the globe. Four years in the making, Our Planet was shot in the Ultra HD 4K, so you know it's going to be another jaw-dropping home theater viewing experience, making it a really big exclusive for Netflix. There's no word yet on whether Planet Earth narrator David Attenborough is on board, but we have to admit it will be hard for anyone to top the British broadcaster's calming voice.
10. Sex Education
While X-Files star Gillian Anderson never actually went away, it's felt like she has been much more prolific in recent years thanks to roles in such series as The Fall, Hannibal and, of course, The X-Files revival. Anderson will look to keep that hot streak going with Sex Education, a dramedy in which she plays Jean, a sex therapist and single mother.
The show will also focus on Jean's teenage son Otis (Asa Butterfield), a virgin who, thanks to his mom's chosen career path, has considerably more knowledge about the birds and the bees than his classmates, and decides to set up his own clinic to help his fellow students navigate their sexual misadventures. Whether or not Sex Education becomes must-watch TV remains to be seen, but we have a pretty good feeling about this one based on Gillian Anderson's involvement alone.
9. Carmen Sandiego
Where in the world is Carmen Sandiego? Honestly, we've found ourselves asking that question quite a bit over the years, as it's been more than two decades since the hit TV series ended its run on PBS and though there have been several shows developed since then, none have really had much staying power. The upcoming Netflix revival will look quite a bit different than the previous series.
For one thing, it's fully animated and will eschew the game show format in favor of an educational adventure serial that offer an "intimate look into Carmen's past". Jane the Virgin star Gina Rodriguez has already been tapped to voice the titular character, while Stranger Things' Finn Wolfhard will voice Player, Carmen's accomplice. A release date has yet to be given, but Carmen Sandiego will find her way to Netflix sometime in 2019.
8. The Dark Crystal: Age of Resistance
A prequel television series to Jim Henson's 1982 film The Dark Crystal, Age of Resistance will take a deeper dive into the fictional world of Thra introduced in the original film. Specifically, the story will follow three "Gelfling" – the elf-life creatures of the Dark Crystal universe – as they fight to save the world from the malevolent Skeksis, Production on Age of Resistance is being handled by The Jim Henson Company, with a return to the puppetry that defined the original film.
"I thought by the 80's the idea of being able to walk into a stage and see an incredible fantasy world realized was just long gone because of CG and everything like that," Brian Henson, chairman of The Jim Henson Company, said at Dragon Con earlier this year. "But they've [Netflix] REALLY done it right. It's GREAT. The workmanship is just stunning, the artistic quality is RIGHT THERE again, what I thought maybe was lost, it's still there." Henson also mentioned that the show would be heading into pre-production soon, so there's a good chance The Dark Crystal: Age of Resistance will drop sometime in the first half of 2019.
7. The Umbrella Academy
Based on the Dark Horse Comics series of the same name by Gerard Way and Gabriel Ba, The Umbrella Academy is a live-action TV show that follows a dysfunctional family of superheroes. The main cast includes Ellen Page as The White Violin, Tom Hopper as Spaceboy, Robert Sheehan as The Séance, David Castañeda as The Kraken, Emmy Raver-Lampman as The Rumor, Aidan Gallagher as Number Five, and Mary J. Blige as Cha-Cha.
The story will focus on the family coming together to solve their father's mysterious death, though there bonds will be tested by their divergent personalities and abilities. Originally planned as a 2018 release, it now looks like The Umbrella Academy won't be out until February 2019 at the earliest.
6. Raising Dion
Based on Dennis Liu's ambitious 2015 comic book series and accompanying short film/trailer of the same name, Raising Dion follows a single mother who discovers that her 7-year-old son possesses superpowers, and her subsequent efforts to keep Dion's powers secret from those who would exploit him. Alisha Wainwright stars as Nicole Reese and Jas'Sia Young as Dion, while Black Panther's Michael B. Jordan plays Nicole's deceased husband Mark. The 10-episode series will see Liu serving as executive producer and promises to put a decidedly different spin on the superhero genre.
5. The Central Park Five
Having previously directed the award-winning documentary 13th about injustice in America's prison system, Ava DuVernay's second Netflix-produced filmis at the top of the must-watch pile for 2019. As the title alludes, The Central Park Five will cover one of the most infamous crime of the 1980s, and the subsequent racially-charged trial that saw five teenagers wrongfully convicted of sexual assault.
Unlike 13th, The Central Park Five is a scripted drama series focusing on the 1989 attack and sexual assault of Trisha Meili in New York City's Central Park, the media firestorm surrounding the trial, and the eventual exoneration of the convicted men following the 2002 confession of convicted murderer and serial rapist Matias Reyes. All the main roles have been cast, with notable stars such as Michael K. Williams, Vera Farmiga, John Leguizamo, and Felicity Huffman in supporting roles. DuVernay will write and direct all four episodes, while also serving as executive producer.
4. The Irishman
The fact that a legendary filmmaker such as Martin Scorsese is making a direct-to-streaming feature film shows just how far Netflix-produced media has come since the company first started putting out original programming in 2012. With streaming-backed productions such as Manchester by the Sea and Mudbound earning serious Oscar consideration in recent years, the door is now open for more auteur filmmakers like Scorsese to try their hand at a different sort of film distribution model, which brings us to his latest feature.
The Irishman marks Scorsese's ninth(!) collaboration with Robert De Niro, who stars as Frank Sheeran, a labor union leader and alleged hitman behind the murder of Jimmy Hoffa, played by Al Pacino. Yes, that's right: The Irishman marks the first time Pacino has starred in a Scorsese-directed film and with a stellar supporting cast that includes Joe Pesci, Anna Paquin, Bobby Cannavale, Harvey Keitel, and Ray Romano, there's a very good chance this could be Scorsese's best work since The Departed.
3. Six Underground
Another huge get for Netflix, Six Underground is one of the first true blockbusters to hit the streaming giant and at a reported budget of $150 million, is Netflix's most expensive feature to date. Starring Ryan Reynolds, Six Underground is being overseen by Transformers director Michael Bay, with writing duties being handled by Reynolds' Deadpool scribes Rhett Reese and Paul Wernick. As of this writing, plot details are still scarce, but given the personnel involved, Six Underground has all the makings of an entertaining action romp. We'll see for sure whether the film has enough going for it to make up for Bay's lackluster filmmaking efforts in recent years when Six Underground hits Netflix in 2019.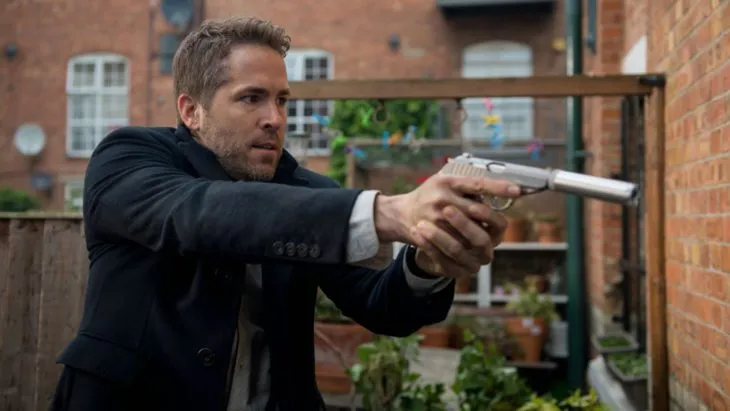 2. Polar
In case it isn't obvious yet, Netflix is really leaning into indie comic book adaptations for its 2019 release slate. Not that that's necessarily a bad thing, mind you, given how promising projects such as Polar sound. A film adaptation of the Dark Horse-published comic of the same name, Polar will star Mads Mikkelsen (Hannibal) as retired assassin Duncan Vizia who, as you may have guessed, is forced back into his old life after someone tries to have him killed.
Anyone who's read Polar knows that it's a super violent noir spectacle, so we're guessing the film will be a mature audiences only affair. In addition to Mikkelsen (who, let's be real, is enough of a draw on his own), Polar also stars Vanessa Hudgens and Viking's Katheryn Winnick, so it's no surprise that this one jumps to the top of our most anticipated Netflix Originals.
1. The Witcher
Could it be anything else? While there is a good chance that The Witcher won't be ready until 2020, Netflix's official site is still listing a 2019 release window, so we're going with that until we hear otherwise. Given the pedigree of both the original fantasy novels by Polish writer Andrzej Sapkowski and the stellar video games released by CD Projekt Red, there are enormous expectations for Netflix's Witcher TV series to deliver and fortunately, there is every reason to believe it will be something special.
Casting Henry Cavill in the lead role as Geralt of Rivia is an unexpected choice, but one we're warming up the more we think about it (the fact that Cavill is a self-described Witcher fanboy certainly doesn't hurt). While the online harassment showrunner Lauren Schmidt-Hissinch received after news broke that the show was looking to cast a person of color in the role of Ciri is unfortunate, that dark cloud hasn't done anything to diminish our excitement for this series, which is easily one of the most anticipated new series of 2019, Netflix or otherwise.